Our forthcoming Jewellery, Gems, Silver & Watches auction starting on Friday 11th September 2020 includes a fabulous collection of silver vinaigrettes, of various size and form with English and Dutch examples.

Silver vinaigrettes were popular during the late 1800s into the mid-1900s and are very collectable. They held a sponge soaked in aromatic liquid and a perforated cover or grill allowed the scented vapours to escape. Vinaigrettes were most commonly crafted out of silver.
Before vinaigrettes came into fashion, pomanders were used for the same purpose of masking unwanted odours! The wealthy class used pomanders crafted of gold or silver to hold their fragrances and pomanders were often decorated with jewels and shaped like fruits, were worn on a chain as decorative jewellery. The pomanders contained substances revered for their powers against diseases like the plague and as aromatics became more concentrated in the 1770s, a smaller sized container became more common, and lead to the vinaigrettes becoming the popular choice.
Both men and women used vinaigrettes beginning in the 1780s but by 1820 women were the primary users and were carried in pockets or worn on a chain around the waist; women were prone to 'swooning' from the tight laces on their corsets, and the strong aromatics inside the vinaigrette could be used to revive the senses particularly because vinaigrettes had hinged lids that could be flicked open for quick inhalation!
Silversmiths in Birmingham produced most of the vinaigrette and most of them were gilded the insides to inhibit discoloration from the vinegar. Most vinaigrettes were simply designed on the outside in oval or rectangular shapes and some have engraved or embossed decoration on the lid. Monograms were popular, featuring the initials of the giver, recipient, or both and the grills often feature elaborate filigree or scrollwork.
The collection we have in the specialist silver auction includes many fine examples, some with gilded interiors, some with deeply moulded cases, and of various size, shape and form.
Included in the collection are other beautiful examples of silver including a rare nutmeg grinder, heart form scent bottle and many more pieces.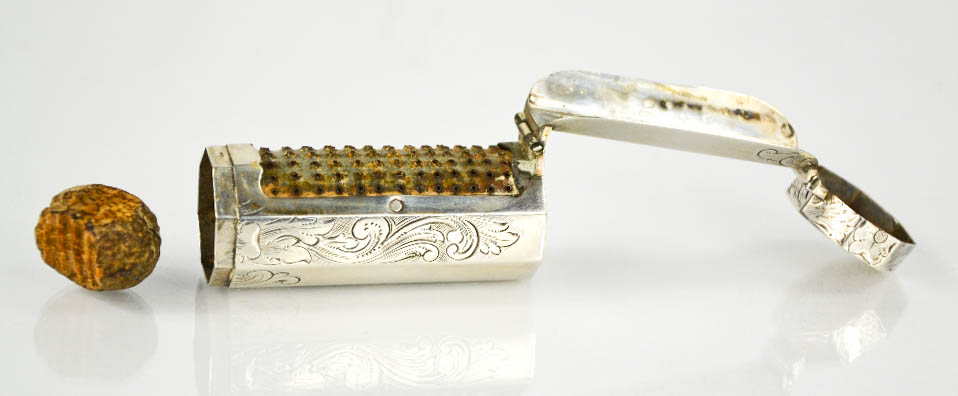 If you have a vinaigrette, or any other examples of silver you wish to be valued, then I would be delighted to hear from you, and can provide a free valuation.